Dogodki
S sredstvi zelenega financiranja do zelenih investicij
V četrtek 27. maja 2021 poteka spletna konferenca z naslovom S sredstvi zelenega financiranja do zelenih investicij, ki jo organizira podjetje Fit Media.
Evropska in nacionalna politika vse bolj spodbuja in odpira kanale za financiranje zelenega prehoda. Trajnostne naložbe prinašajo priložnost za nove inovacije krožnega gospodarstva, preobrazbe procesov v smeri razoogljičenja, vpeljavo zelenih tehnologij, večjo energetsko učinkovitost in optimizacijo procesov ter številnih drugih izboljšav, ki ne prinašajo le okoljskih, temveč posledično tudi finančne koristi.
Dogodek se bo tako dotaknil vprašanj kot so:
Kje so priložnosti za zelene naložbe?
Kako do sredstev za financiranje investicij krožnega gospodarstva in katera sredstva izbrati?
Kaj podjetje rabi za učinkovito pridobivanje zelenih investicijskih sredstev?
Katera sredstva za trajnostne naložbe so na voljo preko slovenskih in evropskih razpisov?
Na dogodku bo aktivno sodelovala tudi SID banka s predstavitvijo Nataše Koščak, specialistke za podjetja v SID banki. Govorila bo o tem kako z Zeleno obveznico in neposrednim financiranjem SID banke do zelenih naložb v podjetju.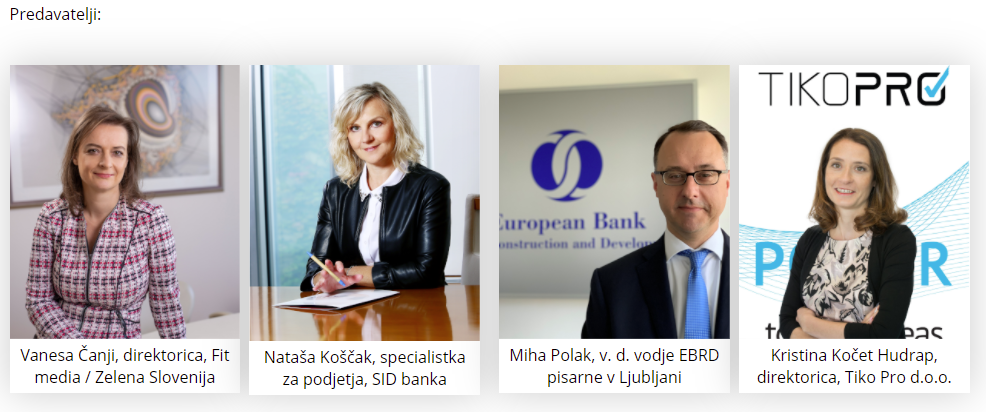 Spletna konferenca bo potekala preko platfgorm ZOOM v terminu med 9.00 in 11.30 uro.
Lepo vabljeni, da se udeležite dogodka.
Additional exports in 2020
06. July 2020
SID Bank successfully launched Covid-19 response bonds in the amount of EUR 350 million on the international capital markets. The funds from the bonds will be used to finance the...
02. October 2019
SID Bank signed the agreement to finance set up and implementation of investment advisory services for various types of investments, so as to provide additional technical assistance to...
All rights reserved © 2017 SID - Slovenska izvozna in razvojna banka, d.d., Ljubljana